SUPALift 2.5 Component Handler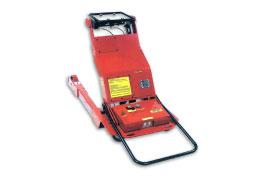 Pumps, belly pans, transmission - remove them all safely with the SUPALift Component Handler. Capable of lifting loads up 2.5 tonne with its unique ratchet safety system securing the load at every position.
| Part Number | Description |
| --- | --- |
| 1000776 | SUPA-LIFT Component Handler 2.5 Tonne |
Features:
Assists in the safe removal and installation of components (belly pans, transmissions, tanks, hydraulic pumps etc)
Independent patented Safety Latch mechanically holds the load throughout the lift
Constructed using QT100 steel plate, ideal for situations where both light weight and high strength are required.
Easy to operate
No power required
Moveable by hand
Ratchet locking safety device at each stage up or down
2.5 tonne capacity (5000 lb)
254mm Low Height (10")
Head tilt +/- 5o and move 50mm (2") from centre in either direction
Various adaptors available
Related categories:
Custom adaptors are available for multiple applications.
| Product Number | Description |
| --- | --- |
| 1001012 | Swivel base adaptor to suit Component Handler SUPALift 2.5 |
| 1001011 | Hydraulic Pump Removal Adaptor to suit Component Handler SUPALift 2.5 |
| TBA | Tri-link adaptor |
Hydraulic Pump Removal Adaptor
The Pump Removal Adapter bolts to the saddle on the SUPALift. The height of this unit adds 32-1/4" to the existing 48" height of the SUPALift. The centre rollers can be raised to allow the unit being removed/installed, to be rotated in position.
Typical uses:
Pump removal/installation
Cylinder removal/installation
Steering rod removal/installation
Tri-link Adaptor
The tri-link adaptor cradle assists in the removal and replacement of the tri-link on the Caterpillar 797 truck. Direct Mining & Industrial can manufacture custom cradles to suit your requirements.
Swivel Base Adaptor Attachment
The swivel base adaptor is designed for use in conjunction with other adaptors to enhance functionality. An example would be the hydraulic pump adaptor. The swivel combined with the hydraulic pump adaptor would give you the following conditions: swivel the adaptor 360 degrees in addition to the 4 inch side shift, 5 degree tilt, and the ability to rotate the pump.