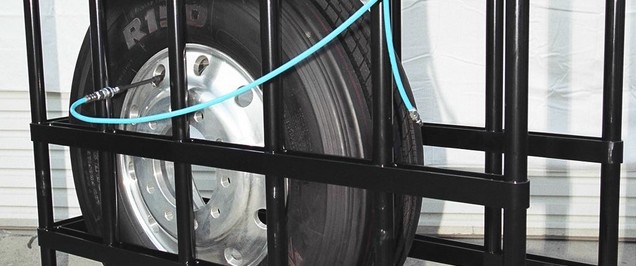 Under Vehicle Service & Tyre Equipment
Simply the safest equipment available...
Tyre Equipment
Our extensive range of under vehicle service and tyre equipment includes the safest range of jacking and lifting equipment available, tyre equipment products and accessories suitable for any workshop or machine application.
Included in our tyre equipment are several styles of bead breakers. These matched up to our Eagle pro Pump units provide a very safe and reliable option to any workshop.
The Eagle Pro EBB001 is ideal for tractor, truck , grader and farm implement tyre bead breaking. Smooth air hydraulic action works on all types of rims. Will break inside and outside beads without removing the tyre, and will not damage the bead or rim. Is a very portable unit only weighing around the 12kg mark.
The EBB002 bead breaker is designed to unseat tyre beads on 25" to 51" OTR rims with pry bar pockets. Ideal for OTR field service repairs. These units have a 4 inch stroke , have a force of 14 tonne at 10,000 psi and a weight of 12-13 kg. Once again, a very portable unit giving ease of operation for the operator.
A range of certified tyre inflation cages are available. Many sizes and capacities are available .These are used to guard against blown lock rings, exploding rims , zippers and ruptured tyre explosions giving the operator a safe working environment. All these cages are certified and conform to OH & S and should always be used with a remote inflation device.
Electric tyre branders to be able to brand tyres after repair come with differing size letters and numbers. Specially designed 1000W heating elements, reach branding temperatures quicker, therefore transferring the heat to the alloy letters and numbers efficiently. Several styles are available and numbers and letters can be purchased individually or in a set. All branders come with a built in stand to allow the operator to set down the unit almost anywhere.
Other products available are wide and varied. Tyre levers, inflation gauges, impact guns, repair kits and many more smaller items to assist in repairs.
Manufacturer '
EaglePro

'

Designed to work on all single, two and three pieces 2-5-10 hole budd, 7.50x16s and all tubeless tyre/ rims and 5 piece rims 25" to 51" with pry bar bead loosening pockets

More

Hydraulic Nut Splitter designed for use in Confined spaces
More