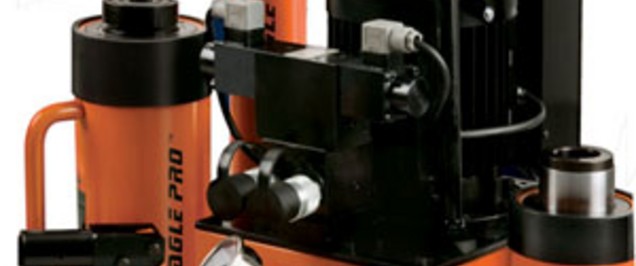 Hydraulic Cylinders
Simply quality range of hydraulic cylinders…
Hydraulic Cylinders
The Eagle Pro cylinders are a quality range of industrial compact design hydraulic cylinders. The range is varied with safety and quality the major focus on all the cylinders. The range includes general purpose single acting, single acting with lock nut collars, single acting hollow plungers, single acting high tonnage, single acting low height cylinders, general purpose double acting cylinders, double acting hollow plungers and double acting high tonnage cylinders.
The lifting capabilities range from 5 to 1000 tonnes and there is a variety of stroke sizes giving any combination for the mining and industrial sectors. These cylinders operate at a pressure of 700bar/10,000Psi, matching our series of hydraulic foot and hand pumps.
With a range of rod types, the applications are limitless. The hollow rod range is designed to allow for both push and pull forces. Most rods are threaded for mounting tilt saddles, single acting cylinders are spring return and have a built in safety valve which will prevent over-pressurisation. Being spring return, this minimizes the effort required by the operator.
These cylinders are manufactured from high strength alloy steel, are all finished in a baked enamel finish for increased corrosion resistance and comply with our industry ISO standards. The larger cylinders in each range have been designed with the operator in mind. Mounting holes, handles, collar threads, plunger threads are all a feature in each range.
These cylinders come with standard high quality 3/8-18 NPT quick couplings which match perfectly to our range of hydraulic foot and hand pumps giving accurate and smooth operation. The quality couplers allow the operator to change out pumps easily and efficiently.
This range of cylinders have a series of accessories which are able to be matched to them, allowing a custom build. Couplings, dust caps( plastic, steel and aluminium), one way flow valves, double manifolds, four port manifolds, gauges and hoses. All these accessories can be matched to custom build a system for your specific piece of equipment.